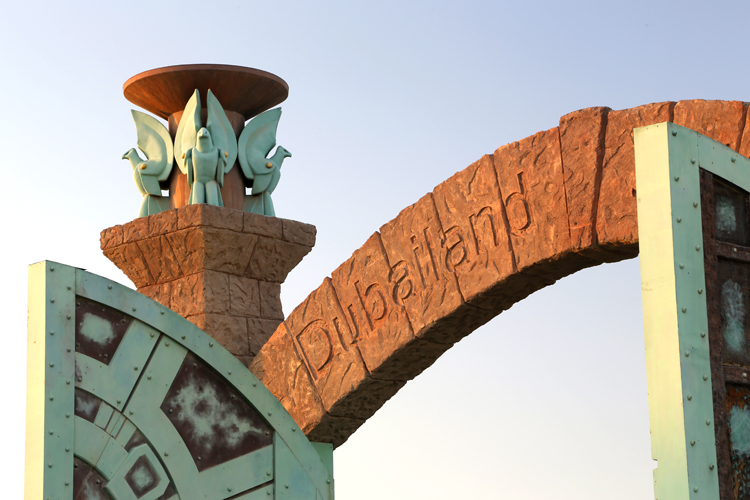 Dubailand, 2014, photography, from the series Gates
The exhibition Dubayyland, 2014 at Heidelberger Kunstverein examines the staging of cultural symbols in the architecture of Dubai and the United Arab Emirates. Dubai as a contemporary city is based on the increasing concentration of international capital flows, an overlapping of de-localized, opposing life realities and the extremely accelerated expansion of urban structures. The result is an aesthetic of urban fragmentation, which is picked up and continued in the multi-part installation Dubayyland. Miniature representations of monuments, regional motives like the date palm, corporate logos and reconstructed architectural artifacts are arranged into a reflection on Dubai as a center of contemporary appropriation and simulation. The material for this project has been collected between 2009 and 2014.
Review (English/German), by Jan Kedves for Frieze d/e
Interview (German), HDKV director Susanne Weiß and Sophie-Therese Trenka-Dalton
Dubayyland, 2014, Heidelberger Kunstverein, exhibition views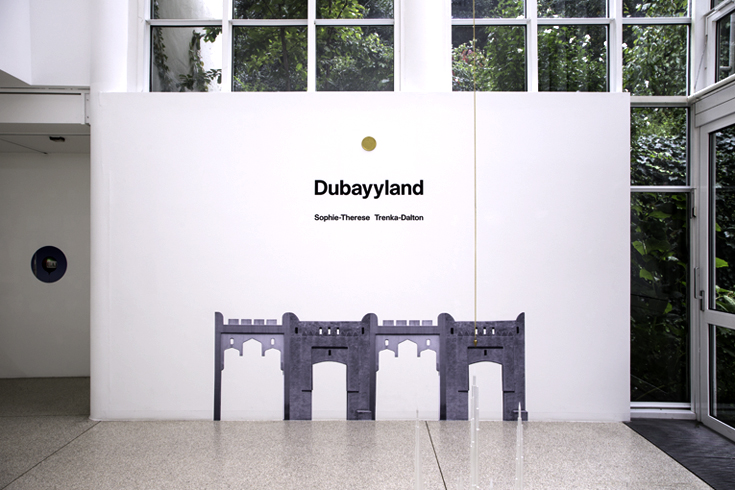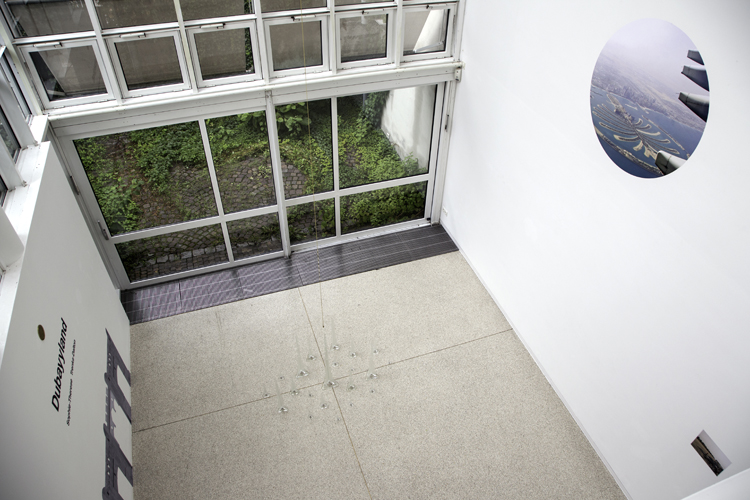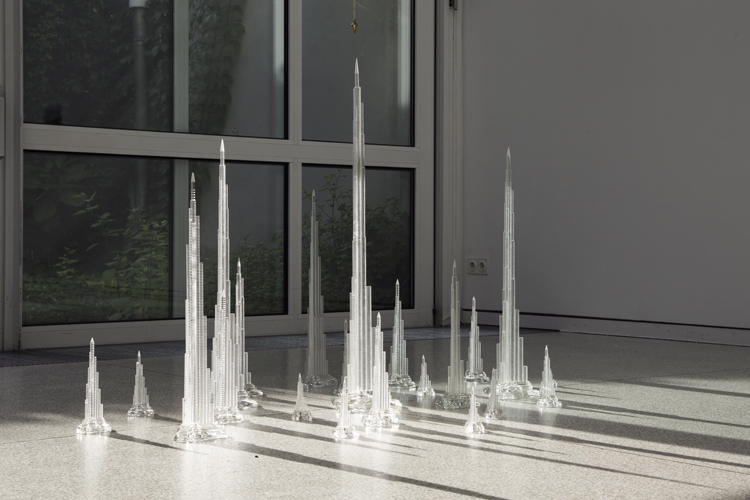 Burj Khalifa, 2014, souvenir glass miniatures of Burj Khalifa, keychain, chain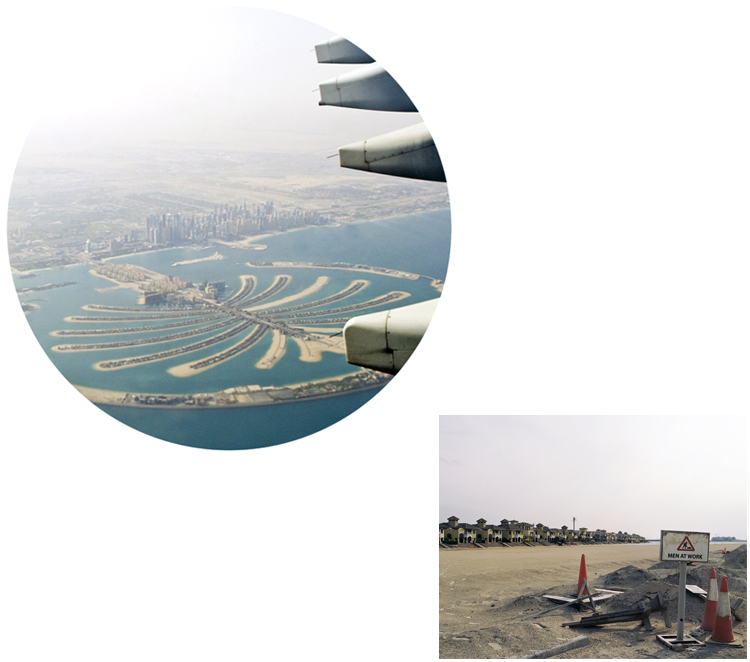 Palm Jumeirah, 2009/13, from the series Jumeirah, photo print, dimension variable
Men at Work, 2009/14, from the series Jumeirah, photo print, dimension variable
The photo Palm Jumeirah shows an aerial view from the airplane of the artificial island Palm Jumeirah on the coast of Dubai. As a counter perspective the photo Men at Work shows a panorama on the palm´s one unoccupied palm frond, which is also visible in the aerial shot.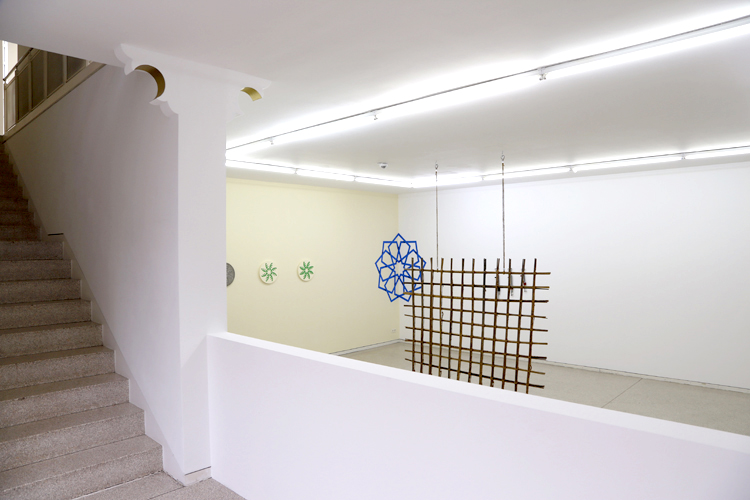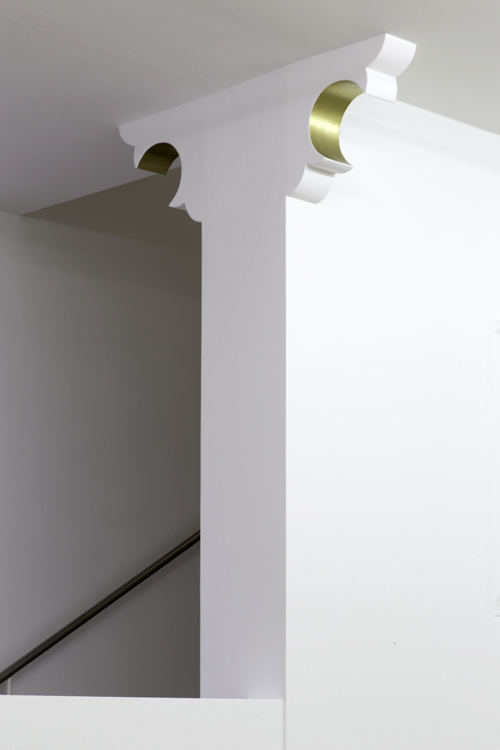 Stucco UAE, 2014, styrodur, acryl paint, wall paint, each 35×35×12cm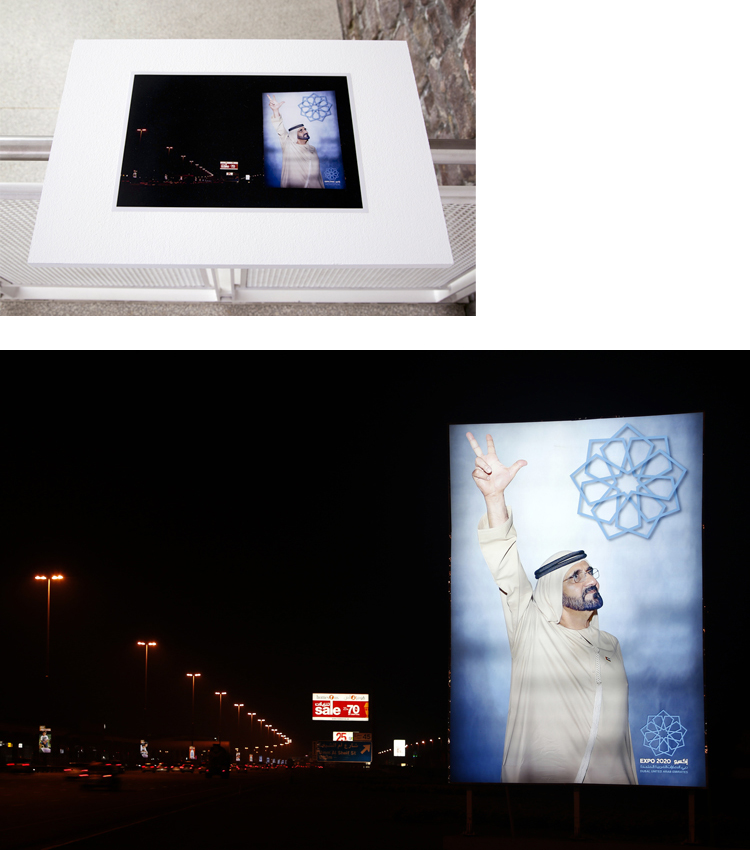 Expo 2020, Sheikh Zayed Road, 2014, photo print, 20×30cm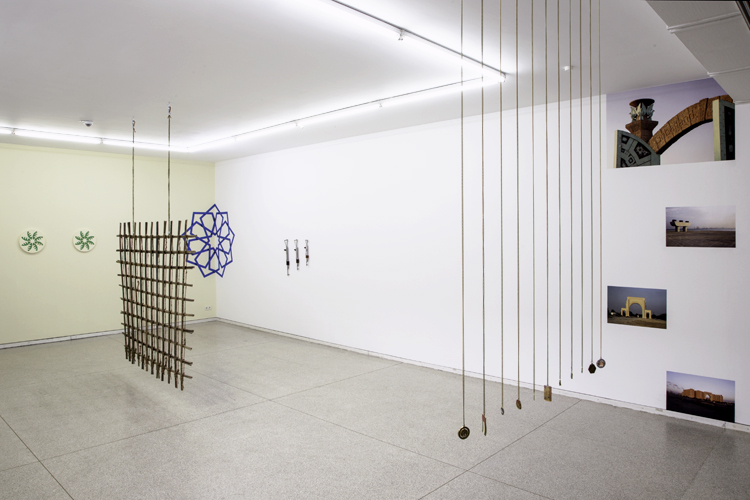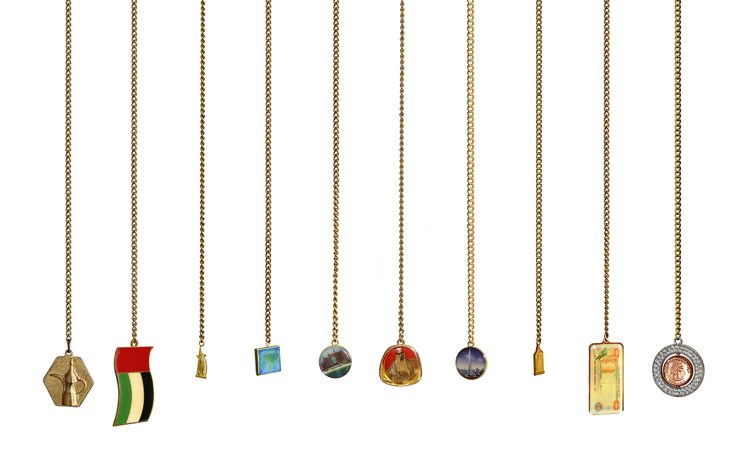 Monuments, 2014, keychains, chains, dimension variable
Monuments consists of a collection of souvenir keychains, mainly vintage, purchased in Dubai. The miniature architecture motives include the Burj Al Arab, Palm Jumeirah, Atlantis Hotel, Burj Khalifa, Emirates Towers and the World Trade Centre.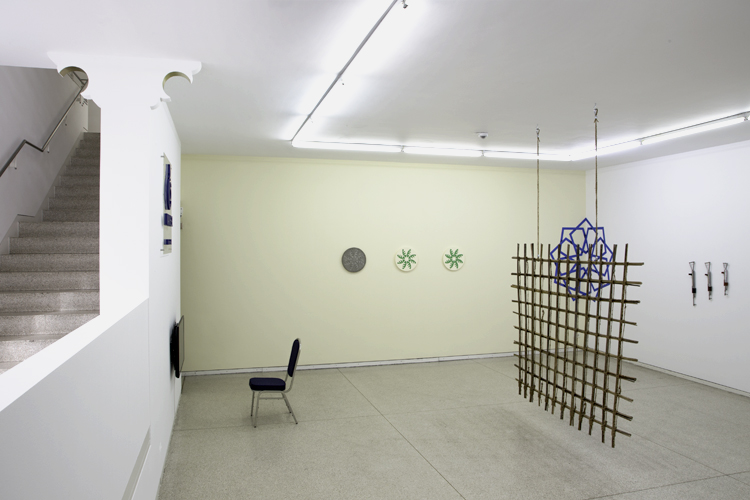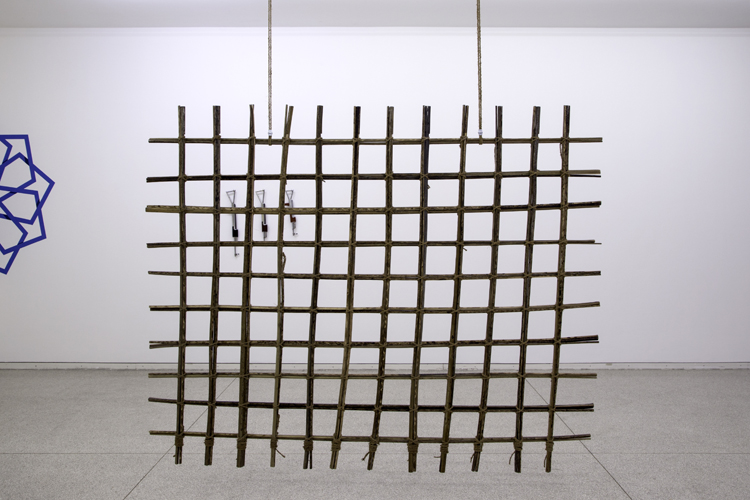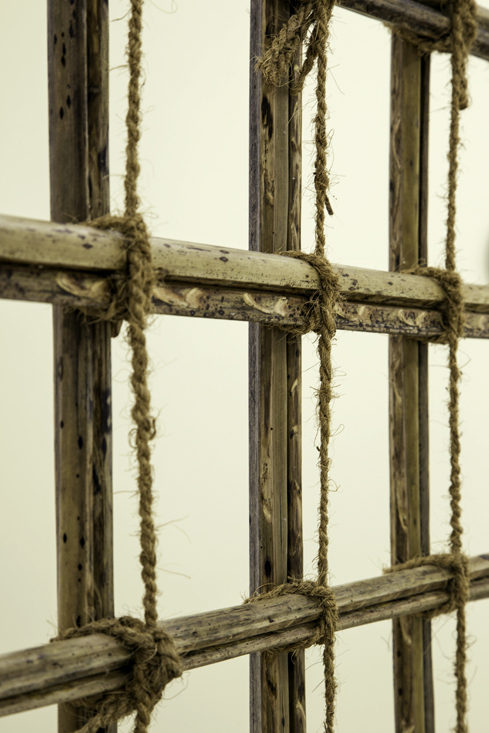 Arish, 2014, palm fronds, palm fiber rope,185x220x4cm
The suspended sculpture Arish shows as an architectural artifact a construction technique used for building traditional huts made of palm fronds and palm fiber rope.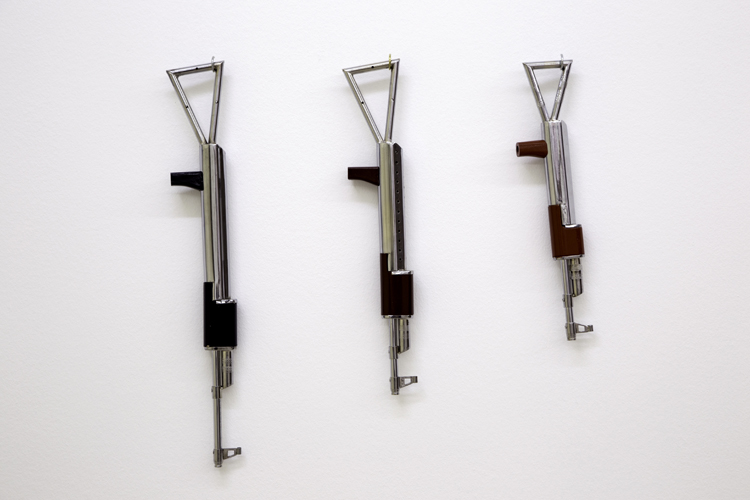 Yola, 2014, model rifles used for the traditional Emirati Yola Dance, ca. 65×70×4cm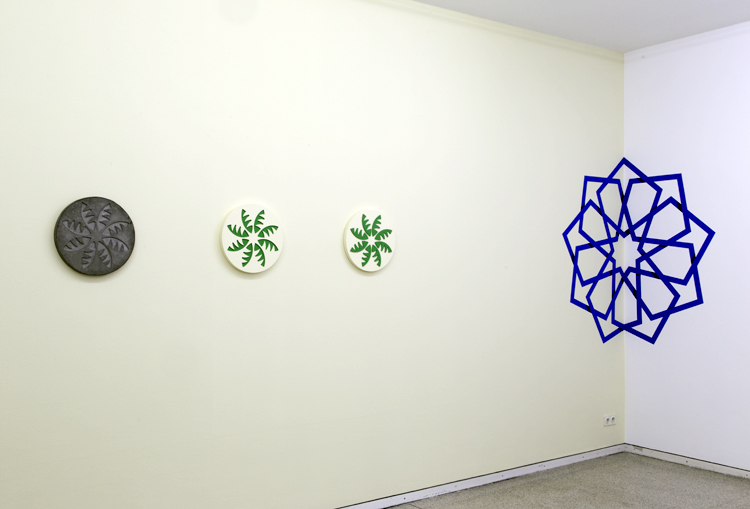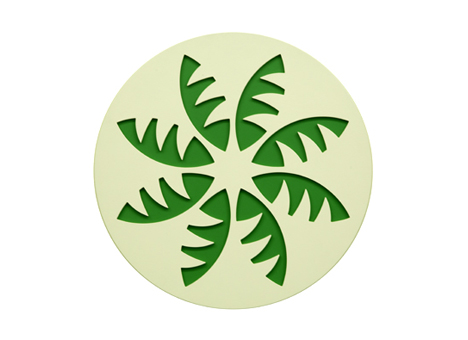 Palm District Cooling, 2014, concrete, MDF, lacquer, wall paint, each 40x40cm
The three relief disks are modeled after variations of the corporate logo of Palm District Cooling. The company runs central air conditioning plants in Dubai neighborhoods such as Palm Jumeirah, Jumeirah Lakes Towers or Ibn Battuta Shopping Mall, all projects by the real estate developer Nakheel.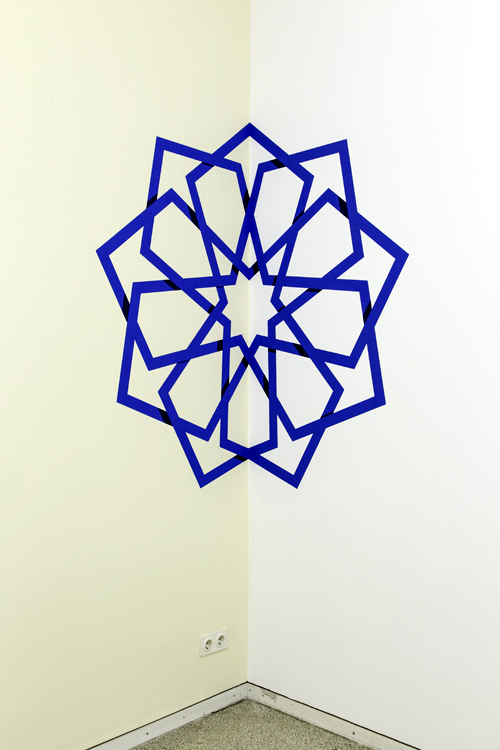 Expo 2020, 2014, wall painting, 140x140cm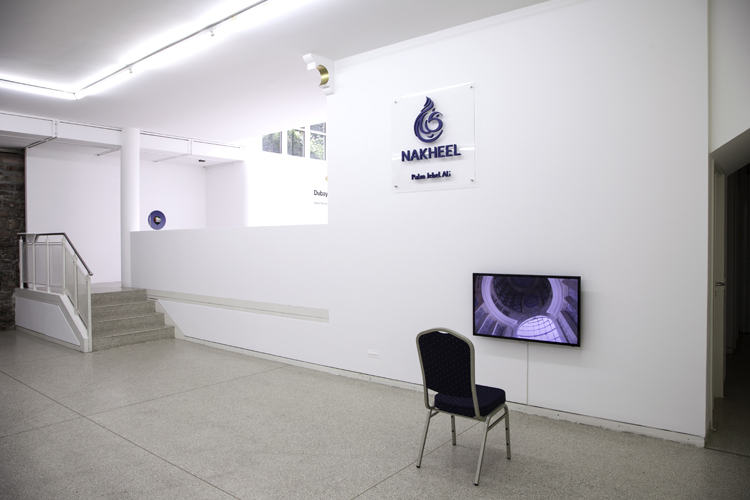 NAKHEEL Palm Jebel Ali, 2014, video, 11min., company sign, banquet chair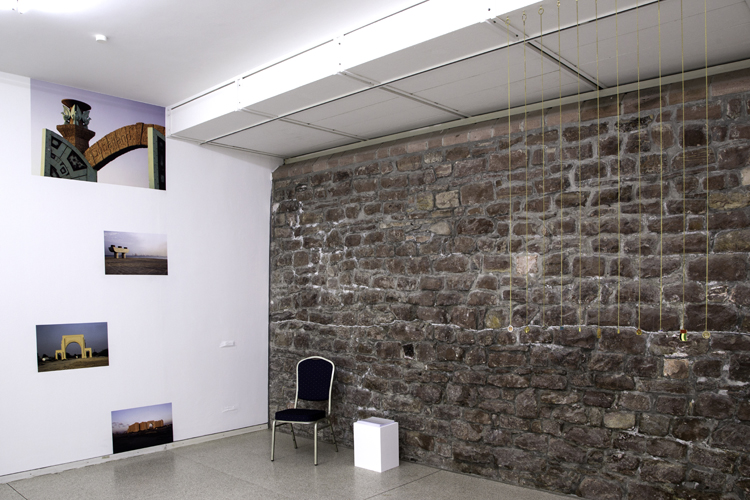 Gates, 2014, inkjet print, dimension variable
The photo series Gates shows monolithic gate structures in the area of Dubai shot during sunset or sunrise.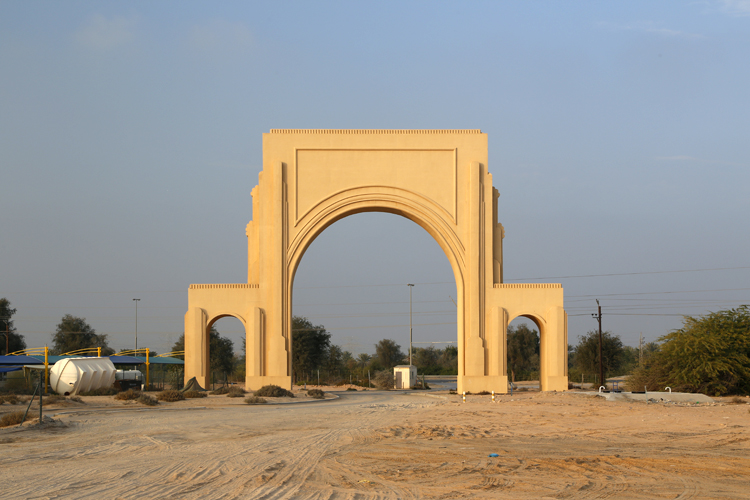 Universal Studios Dubailand, 2014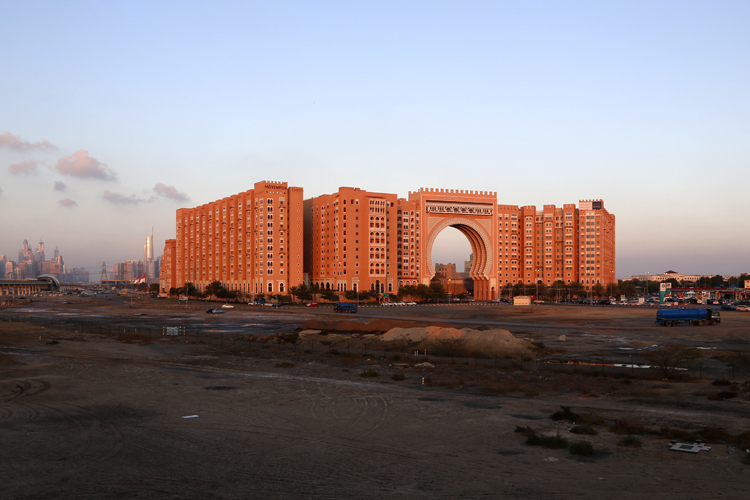 Gate Hotel, 2014