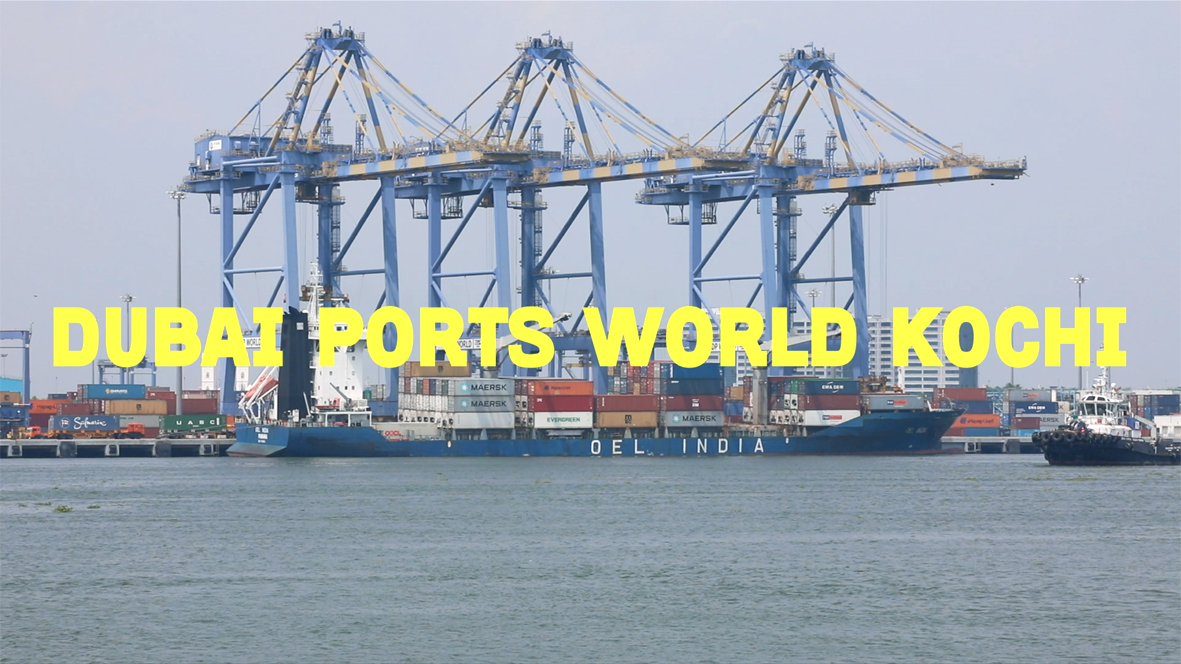 Dubai Ports World Kochi, 2018, video, 8:30min.
Dubai Ports World Kochi was shot in Kerala, India and documents the container port of Kochi that is operated by the Emirati company DP World, short for Dubai Ports World. The video is part of the video- and research project "Gulfi" that retraces how the specific relationship between the United Arab Emirates and Kerala manifests throughout the landscape of the South Indian state.
The video begins with a Kerala-style tourist boat crossing the canal through heavy monsoon rain against the backdrop of the port´s cranes. The following main shot centers on the loading of a container ship during a bright day while different types of ships go by. The overall look of the industrious scenery is generic; the location could be almost anywhere. In the central visual event the two large Indian oil tankers Sanmar Sonnet and Swarna Kalash cross in front of the container port, filling the frame for over two minutes. The name of the managing company DP World is visibly written across the port´s cranes. The Emirati company operates and developes an increasing number of industrial and free ports worldwide.
Seafaring, fishing, trade and travel are significant elements of Kerala´s history and identity. The site of the container port in Kochi marks an universal as well as site-specific threshold, connecting the historic port city to a global industry network created to move increasing amounts of resources and products across the globe. Kochi is Kerala´s commercial capital and as in many seaside trade cities Kochi´s old port is undergoing industrialization and relocation, which brings change to local economies and urban structures. The historic trade business and colonial warehouses of Fort Kochi are replaced by infrastructure for up-market tourism. The video was shot from one of these historic colonial storage warehouses located across the water from the container port. Parallel to the gentrification of Fort Kochi industrial zones increasingly occupy the coast and islands of Kochi, often in dispute with the local population over contamination of the environment.
Dubai Ports World Kochi was supported by the Goethe-Institut / Mueller Bhavan Bangalore and the Kochi Biennale Foundation.